biscuit gallery is pleased to present three solo exhibitions "SOLO SOLO SOLO vol.4" by contemporary artists Akihiro Hasegawa, Daichi Igarashi and R E M A from November 24th through December 11th.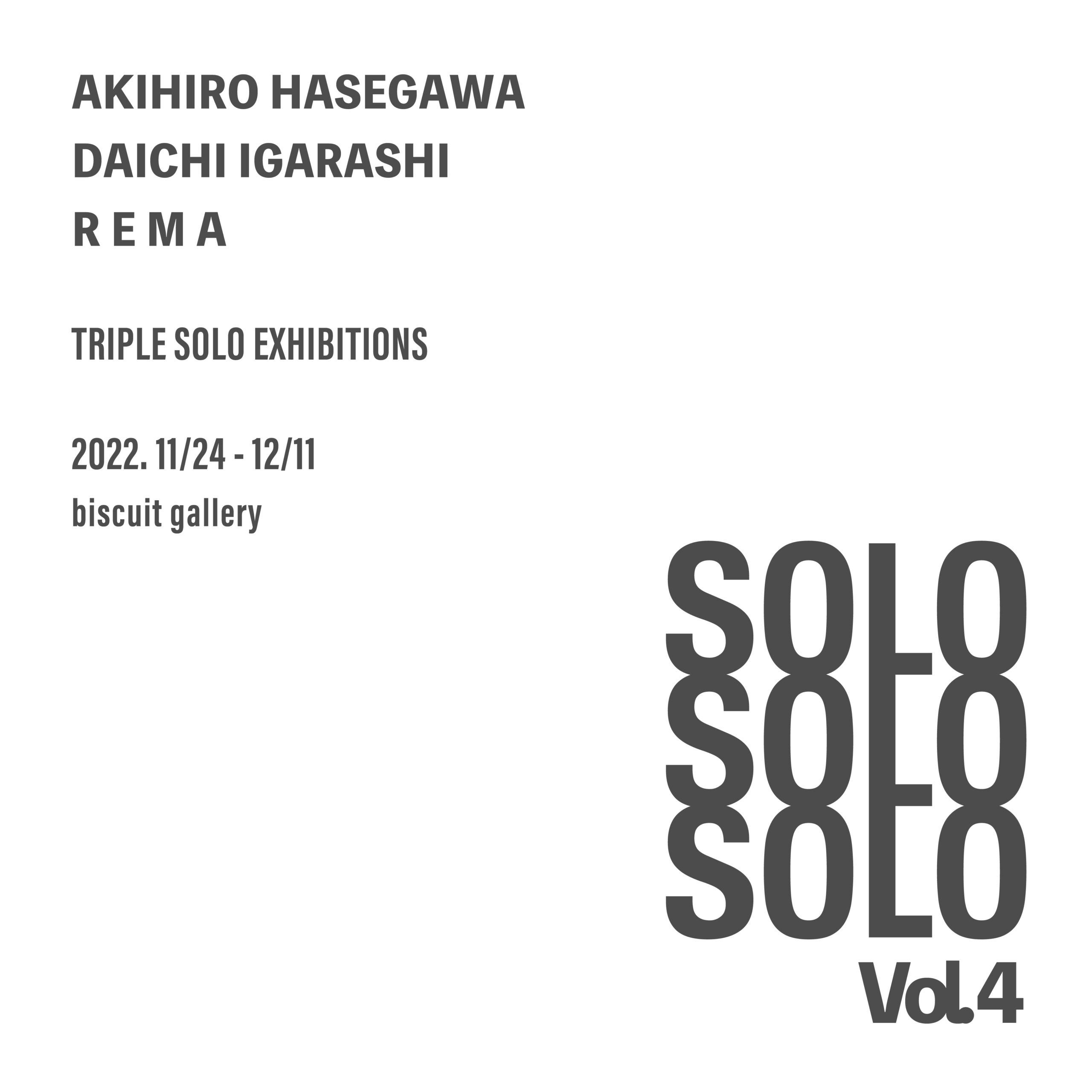 We held Vol.2 of this exhibition project "SOLO SOLO SOLO" in October and Vol.3 in early November. This Vol.4 will be the last exhibition of the series, which had planned 3 volumes in a row, and 3 artists below are featured in the show.
Akihiro Hasegawa (1F) solo exhibition "axiom"
Profile
1997 Born in Mie 
2020 Graduated from project logic research in department of design at Tokyo University of the Arts
Born in a temple of the Tendai sect of Buddhism. Taking the Buddhist statues in the hall and the surrounding space as his original experience, he is searching for the possibility of Japanese-style depiction and the universality of human existence beyond it.
Daichi Igarashi (2F) solo exhibition "Sweet Spiral Garden"
Profile
1996 Born in Tokyo
2022 Master's Course Laboratory of Oil Painting, Tokyo University of the Arts Graduate School 
Replacing materials, photographing and projecting on a monitor, and painting on canvas. The images that change form and are expressed depict the constancy of the subject through repetition of decadence and reconstruction.
Through a series of creation that embrace unpredictable events, such as the change of materials over time and the displacement that occurs when moving from one process to another, he contemplates the reality of painting in response to the impermanence of the environment.
R E M A (3F)  solo exhibition "waking dream voice"
Profile
Since my early days, I have been creating works using self-images based on my external features, such as my makeup.
In recent years, the self-image that has been the subject of my work until now has been abstracted into an image of femininity and shadows – driven by premonition and dreaming – and expressed through the act of line and burning. The images applied to various materials appear as if they were already there, inviting the viewer into a new-primitive world.
From 2022, the two series will merge into a new form of expression.
This exhibition project "SOLO SOLO SOLO" will be continued in the future. 
Information
Akihiro Hasegawa×Daichi Igarashi×R E M A solo exhibitions
「SOLO SOLO SOLO Vol.4」
1F:Akihiro Hasegawa solo exhibition "axiom"
2F:Daichi Igarashi solo exhibition "Sweet Spiral Garden"
3F:R E M A solo exhibition "waking dream voice"
会場:biscuit gallery 1〜3F
会期:November 24th Thu 〜 December 11th Sun
時間:13:00〜19:00(Sat/Sun:12:00〜18:00)
Closed Monday through Wednesday
Admission free
Produced by biscuit gallery
【Event information】
We will have an opening party on November 24th from 16:00-19:00. Please come join us.