biscuit gallery is pleased to announce our first Curatorial Project , a project to support the activities of young curators, with a duo exhibition by Satoshi Kikuya and Kasumi Maeda, "notes of shadows," curated by Riho Matsue. The exhibition will be held using 3 floors of the gallery from September 8, 2022.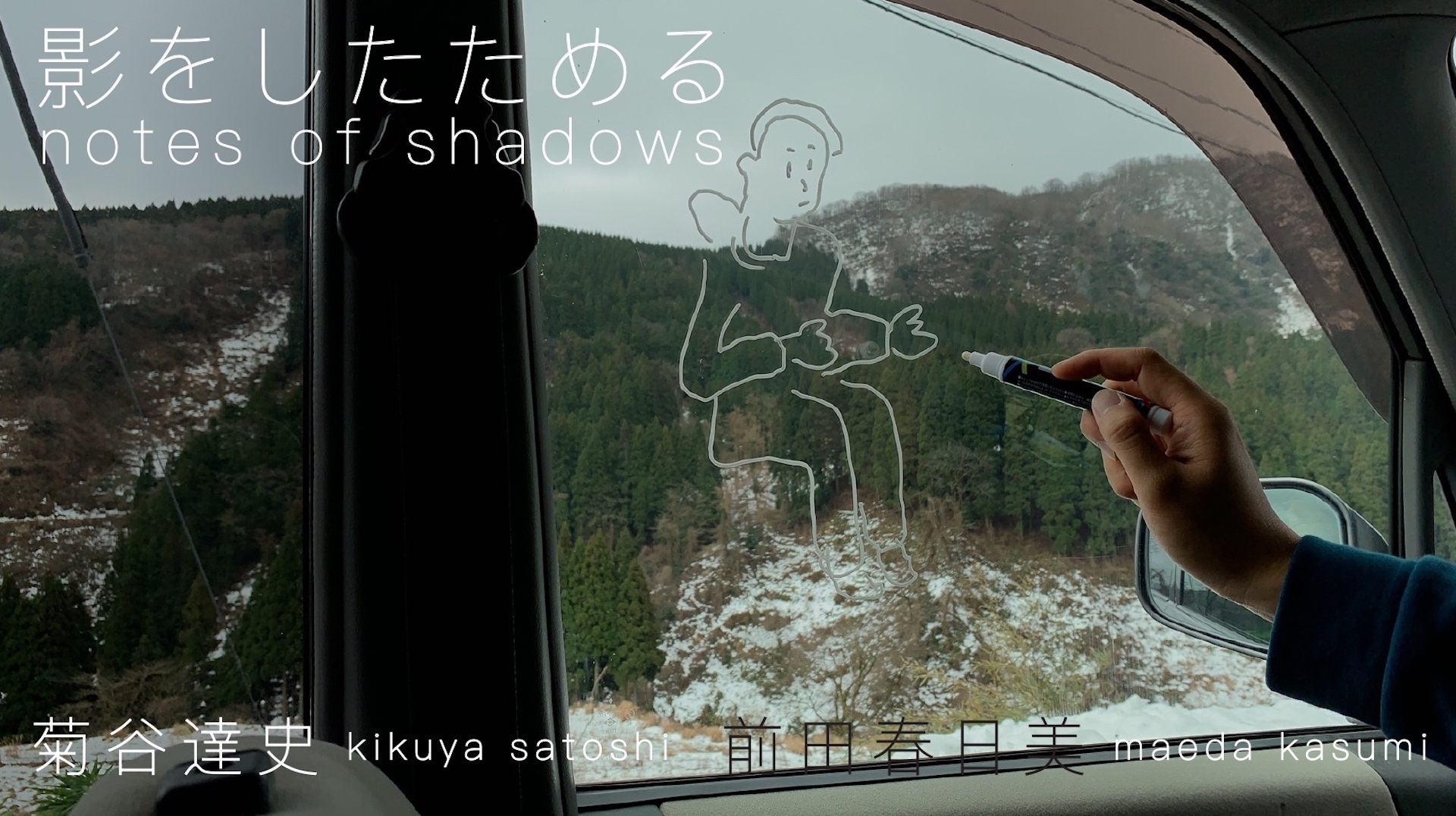 biscuit gallery has been actively organizing exhibitions featuring young artists. Through this "biscuit gallery Curator Projects," we will support the realization of free and experimental exhibitions by featuring young curators, and will promote cooperation in organizing exhibitions.
The first curator we feature in this project is Riho Matsue, a master's degree student in the Department of Art Studies and Curatorial Practices, Graduate School of Global Arts, Tokyo University of the Arts.
—
  A duo exhibition by Satoshi Kikuya and Kasumi Maeda, "notes of shadows," will be held at biscuit gallery under the curation by me, Riho Matsue .
  "Shadows" have been literally lying beside us since ancient times, stimulating people's imagination. For example, according to a Greek legend recorded in the "Natural History" of Pliny the Elder, a Corinthian maiden traced the outline of her departed lover's shadow in the light of a lamp and left it on a wall, which is said to be the origin of painting. Shadows have also appeared in many stories as an alter ego, like a doppelgänger. Dark shadows, which are the counterpart of light, are often seen as psychologically negative. In this exhibition, however, we would like to get closer to every substantial being, pick up the nature of shadows that appear in different dimensions, and superimpose them on the stance and method of expression of each artist in their creation.
  For example, Kikuya, who has created surrealistic two-dimensional and animation works, which are a mixture of Pop Art, modern Western-style paintings and illustrations, using daily documental pictures and movies left on his iPhone, locates his work in the shadow of the history of painting, and simultaneously  accepts pictorial expression frankly as a "shadow" of the real world, an image without record or substance. Maeda, on the other hand, has often expressed a sense of inadequacy and dissatisfaction with her body by using mirrors and projectors. Her method of projecting her own body onto a flat surface and transforming its contours and traces of its existence back into a three-dimensional work with substance is one of her attempts to accept the gaps in the body and to find a way to coexist with a sense of inadequacy.
  To note shadows is to remember that something, someone, or ourselves was there. In today's world, where everything passes so quickly, the attempts of these two artists to find their own place in relation to the world by looking at the shadows at their feet will also stir our imagination like the shadows.
Riho Matsue, curator of "notes of shadows" 
—
【biscuit gallery Curator Projects】
A project to support activities of young curators in organizing art exhibitions.
This is an ongoing project to support all aspects of exhibition such as curators, curation cost for artists, exhibition cost, venue, management, and promotion/publicity.
For inquiries, please contact: info@biscuitgallery.com
【Exhibition information】
Duo exhibition Satoshi Kikuya・Kasumi Maeda
"notes of shadows"
September 8th, Thu ―25th, Sun 2022
biscuit gallery (biscuit bldg. 1F〜3F, 1-28-8 Shoto, Shibuya-ku, Tokyo, JAPAN, 150-0046)
Project plan:Riho Matsue
*Closing party is scheduled on September 25th, 15:00-18:00
〈Curator Biography〉
Riho Matsue
1994 Born in Aomori
2019 Graduated from Kanazawa College of Art, Department of Fine Arts, Art Science
2020- Enrolled in the Master's Program in the Department of Art Studies and Curatorial Practices, Graduate School of Global Arts, Tokyo University of the Arts.
2021 Temporary appointed curator at The Museum of Modern Art, Saitama
〈Artist Biography〉
Satoshi Kikuya
1989 Born in Wakkanai City, Hokkaido
2011 Graduated from Kanazawa College of Art, Department of Fine Arts, Oil Painting Course
2013 Completed Master's program in Oil Painting, Department of Painting, Kanazawa College of Art
Major solo exhibition in recent years
2018 "Play a role" Sojiro (Itami, Hyogo)
2021 "Beautiful Animals" IN SITU (Nagoya, Aichi)
2022 "Moving Picture" Ishiguro Building Basement (Kanazawa, Ishikawa)
Major group exhibitions in recent years
2017 "VOCA2017" The Ueno Royal Museum, Ueno, Tokyo
2019 "The Optic nerve and The Devices" CRISPY EGG Gallery, Fuchinobe, Kanagawa
Other
2019 "3331 Art Fair 2019 -Various Collectors' Prizes-" 3331 Arts Chiyoda (Sotokanda, Tokyo)
2020 "Genron Chaos*Lounge New Art School 5th Final Selection Results Exhibition "Playroom"" Genron Cafe (Gotanda, Tokyo)
Kasumi Maeda
1991 Born in Tokyo, Japan
2017 Graduated from Musashino Art University, Department of Sculpture, Faculty of Art and Design
2019 Completed Master's Course in Sculpture, Department of Fine Arts, Graduate School of Art and Design, Musashino Art University
Major solo exhibition in recent years
2017 "Short Hands" ("I'd rather compare it with", a series of solo exhibitions by Haruki Ohno, Kasumi Maeda, and Kazuki Oishi), mime Tokyo Zokei University of Fine Arts and Music
(a series of solo exhibitions by Yosei Ohno, Haruhami Maeda, and Kazutaka Oishi), mime Tokyo Zokei University
Major group exhibition in recent years
2019 "D.A.AURA Residency Open Studio", D.A.Aura (Gwangju, Korea)
WALLA Opening Exhibition", WALLA, Tokyo
Denchu Strut: Taking a Star," Kodaira City Kodaira Hirakushi Denchu Art Museum, Tokyo, Japan
"Betsujin", Geishuku 103, Ishikawa
Gunma Biennale for Young Artists 2019″ The Museum of Modern Art, Gunma
2020 "Book of Kirinuki" Zui-Un-An (Kyoto)
WALLAby/Warabi" Ginza Tsutaya, Tokyo
2021 "Possessing Manners", Koganei Art Spot Chateau 2F (Tokyo, Japan)
Polyphonic Process + Pressure" Hashikko, Tokyo
Performance
2022 "Putting down the soft cane", WALLA (Tokyo, Japan)