Yumi Nagata Solo Exhibition「positive」
biscuit gallery is pleased to announce the solo exhibition of Yumi Nagata, "positive", from September 9 to 19, 2012. Using the expressions of girls that have been developed in Japanese art and subcultures as a guide, Nagata's works straightforwardly and unabashedly reflect "self who draws girls and self who denies it," "desire for transformation," "desire for approval," etc. in the world of contemporary painting. This is her first solo exhibition since graduating from Tama Art University this year. In this exhibition, 35 new paintings will be exhibited on three floors, each of which will be themed "positive", "neutral", and "negative", with the aim of projecting and examining "myself painting a girl" through the works exhibited on each floor.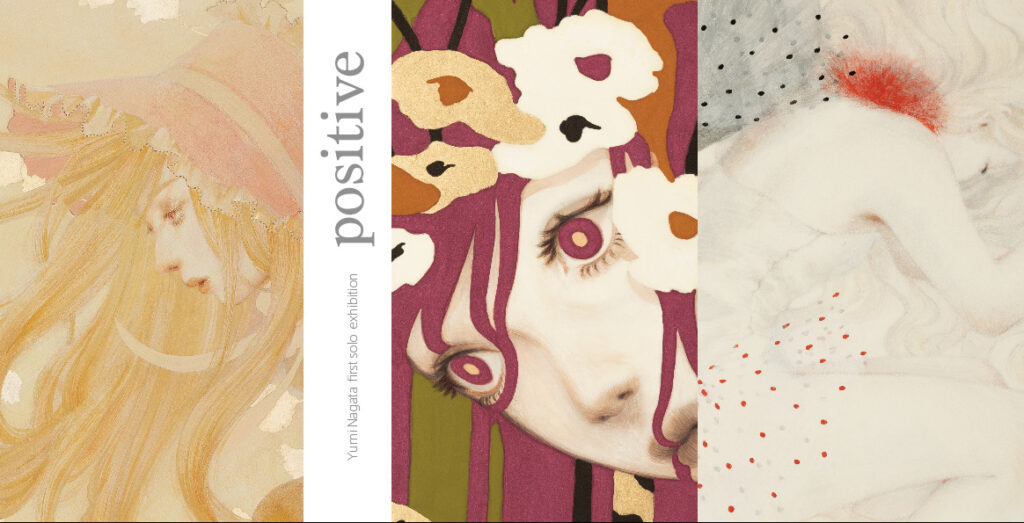 Yumi Nagata was born in Tokyo in 1997, graduated from Tama Art University in 2021 with a major in Japanese painting, and currently lives and works in Tokyo. At first glance, Nagata's works may seem to follow the lineage of Japanese painting in Japanese art, which depicts girls in an aesthetic or caricatural way, but behind this lineage, Nagata herself says, "Girls, which I have used in animation, manga, and my own Japanese paintings, are a motif that I tend to avoid once I enter the world of contemporary art. As she says, "As soon as I entered the world of contemporary art, I felt that "girls" were a motif that tended to be avoided. In addition, there is an attitude of thinking about how one's own cultural background and art historical context can be connected.
Nagata has said, "If I were to paint my work as a painting in the contemporary sense, there would inevitably be a contextual restriction that says, 'This is the way it has to be. She sometimes stands between "the behavior that should be expected of a contemporary painting" and the painfully naive feeling of "drawing girls" that she has held since her childhood, and continues to create her works while being perplexed by the distance from this artistic dramaturgy. When we look at her own problems, there is a story that can be understood by artists of the same generation, namely, as a generation following the Japanese art trends such as Superflat, how to create new works and historicize subcultures and net cultures, which she has accepted as a matter of course and which have become the elements that form the basis of her own life, using what methods and theories. This is a common problem for the generation that has accepted these cultures as a natural part of their lives, not during their rise, but during their establishment.
Nagata has named the works in this exhibition the "layer" series. This is a double-meaning title taken from the unique layered texture created by her use of mineral pigments and the slang word for cosplayers, "layer. Nagata says that the girls depicted in her works are her own alter egos, a kind of self-portrait, and it can be said that the spirit of substitution or the desire to transform oneself into a lovable being is what makes Nagata's works unique. Sometimes she wears eccentric hats, sometimes her head is shrunk to look like an anime character, sometimes she wears bizarre costumes, and sometimes the girls are dressed in Goth subculture. It may seem as if Nagata is narrating his own world and its story alone, far from reality. Nevertheless, if we compare it to the generation again, for the girls of the generation where animation and manga were commonplace, communication in the form of narrative is a more native method rather than frankly saying something. This is why her paintings are not only art for the sake of art history, but also a way to share the warmth of the world she feels as a story (=character), to connect, and to respond to this reality, just as Felix Gonzalez-Torres once presented works that endorse the sharing of sorrow and mourning. It is a way to share and connect with the warmth she feels in the world as a story (=character), and to respond to this reality. This is clearly a testimony of someone who looks at the times from the inside, and can be taken as a search for and resistance to what her generation can do in today's contemporary art.
Outline of positive, a solo exhibition by Yumi Nagata
Period: September 9 (Thurs.) – September 19 (Sun.), 2021
Hours: 13:00 – 19:00 (12:00 – 18:00 on Saturdays and Sundays)
Closed on Mondays, Tuesdays, and Wednesdays
Venue: biscuit gallery, F1 – F3
Please feel free to contact us if you would like to inquire about the works.