Kosuke Ajiro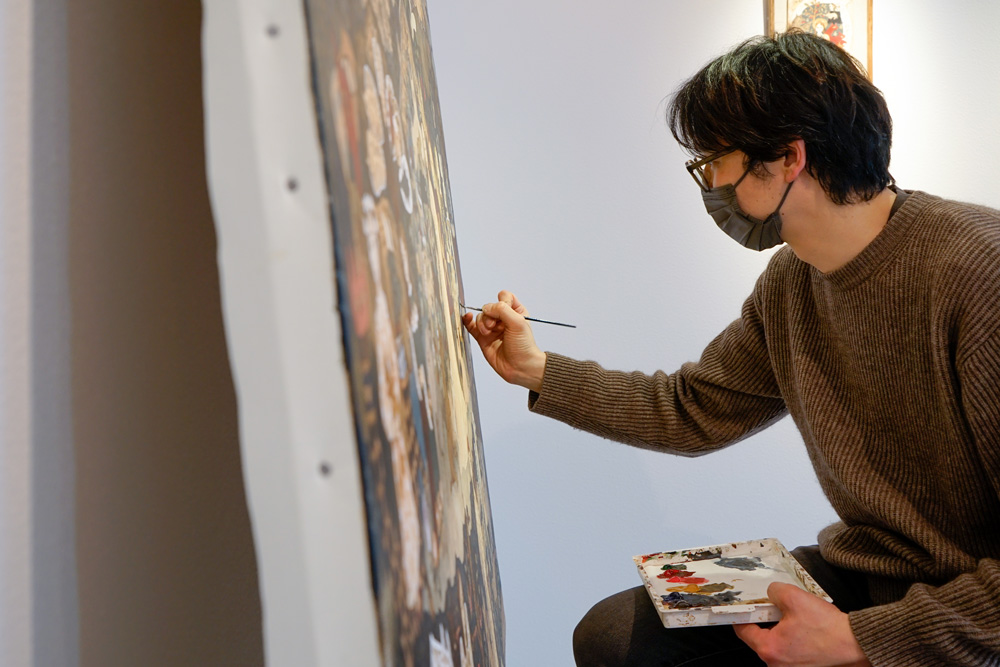 Profile
Kosuke Ajiro
1980 Born in Tokyo
2000    Kuwasawa Design School, Visual Design Course, Night School
Selected Exhibitions
Solo Exhibitions
2023
"Cloudy" noir/NOKTA, Shizuoka
"Sally" arflex Tokyo, Tokyo
"Herururu" Kousagisha Gallery, Kyoto
"Jukai" (Sea of Trees), nijigaro Gallery, Tokyo
2022
"Kiri No Naka De" (In the Mist), LIBRAIRIE6, Tokyo
"BARBACHICA" SUNNY BOY BOOKS, Tokyo
"Sally Ocho" (Sally Dynasty), noie extent, Tokyo
"Owari No Nai Yume" (Endless Dream), NADiff modern, Tokyo
2021
"Labyrinth" URESICA, Tokyo
2020
"PARADISE" Native Village, Tokyo
 "Sore Ha Maboroshi" gallery hydrangea, Tokyo
 "Kamisamatachi" (Gods), NADiff modern, Tokyo
 "A Happy Tea Party" Kiri to Ribbon, Tokyo
"Yagi Wo Daiteneru" (Sleeping With A Goat), noir/NOKTA, Shizuoka
2019
"Sokonashi" martha, Osaka
"Sara To E" URESICA, Tokyo
"attic" ondo, Tokyo
2018
"Orenji Yori Gorudo" nowaki, Kyoto
"Огонёк" SUNNY BOY BOOKS, Tokyo
2017
"Sally No Sekeizu" (Sally's Plan), URESICA, Tokyo
"Po to Pou" nijigaro Gallery, Tokyo
"Coal-Tar Night" Galerie LE MONDE, Tokyo
"Mo Hitotsu No Hanashi" (One More Story), ON READING, Nagoya
2016
"Reinette" ondo, Tokyo/Osaka
"Kimi No Shiranai Machi" greenray+marüte, Taichung, Taiwan
"Soko Ni Todomaru Monotachi" Galerie LE MONDE, Tokyo
2015
"Kimi No Shiranai Machi" ondo, Osaka
2014
"SCROLL" ondo, Osaka
"Kitto So Iu Koto" gallery ie, Osaka
2013
"Yozuri" ondo, Osaka
2011
"Saaberu Fujin" (Madame Saber), Shinjuku Ganka Art Gallery, Tokyo
2010
"fogbound" Shinjuku Ganka Art Gallery, Tokyo
Group Exhibitions
2023
"Bountiful" QUIET GALLERY, Hong Kong
2021
"Collectors' Collective Vol.5" biscuit gallery, Tokyo
2020
"ART NAGOYA" HARMAS GALLERY、Nagoya
2019
"aupuni" Shinjuku Ganka Art Gallery, Tokyo
2018  
"Sasa" experiment at 7th, Kaohsiung, Taiwan
"REUNION" Sioribi, Nagano
2014
"YONA YONA" MAISON D'ART, Tokyo
2013
"Tsuji" Shinjuku Ganka Art Gallery, Tokyo
2010
"YOUNG ARTISTS JAPAN VOL.3" tagboat, Tokyo
"WONDER SEEDS 2010" Tokyo Arts and Space (formerly Tokyo Wonder Site), Tokyo
Concept
Kosuke Ajiro (b. 1980) is a Tokyo-based artist. He continues his pursuit from childhood to capture the "other world" within himself. His practice centers on acrylic painting, and also includes ceramics, sculpture, animation, music, and more. 
This "other world" is based on the artist's childhood memories, influences, and familiar events, but is presented as the narrative of "an unknown civilization that died out in the medieval period of its development." It is fiction, but at the same time, it is the artist's internal reality. As an archaeologist excavating this lost civilization, Ajiro paints and records the history of the distant past as it unfolds before his eyes one after another. The works are ancient relics, which is why they show signs of aging, as if they have decayed. Each work has its own historical setting and context, the characters and imaginary monsters are sometimes given proper names, and the scenes depicted have meaning. The scenes can be labeled as origin myths, lessons, fables, or minor events. These detailed settings develop into the grandiose backdrops of dynasties, creation myths, and civilizations, the full scope of which is still unknown, even to the artist himself. In the "other world," freed from constraints, we find a variety of absurdities. It is no wonder that cruelty and humor, grotesqueness and cuteness coexist. The artist often has doppelgangers in which he witnesses himself in the form of a "girl" and records them in pictures.
In Ajiro's works, we can see elements of traditional Japanese picture scrolls, European medieval manuscripts, and various folk religious art from the East and West, especially the influence of Hieronymus Bosch. In terms of the expression of a deeper consciousness, the works can be related to Jung, surrealist visionary art, and outsider art, and also have a close affinity with contemporary Japanese character culture.
■Publications
2022   BARBACHICA, SUNNY BOY BOOKS
2021   Tegami Ga Kitana Kishishishishi, Mishimasha
2018   Saaberu Fujin (Madame Saber), Shogakukan